Telegärtner at its IE-Line connectors with SteadyTec technology on a modular platform concept which integrates several technologies throughout. This applies equally to the contacts, the housing materials used and seal as well as the handling. Also the mounting, labeling, cable seal and strain relief based on it.
The recently created in cooperation cross-platform concept SteadyTec of BTR NETCOM, Telegärtner and Weidmüller is to integrate the most promising connector variants in a solution – namely as a reliable and flexible applicable system for Industrial Ethernet. Telegärtner has now realized with its IE-Line connectors and can offer the user the first time integrated IP67 solutions for copper and fiber-optic (FO) cabling. But that's not the only advantage: adding different versions come with freely combinable operations, different equipment for material and connection, high-quality contact technology with more than 750 plugging cycles for plugs to IEC 60603-7. In addition, the connectors are capable of gigabit and described in the IEC 61076-3-106.
Directly in the field attachable
The modular IE-Line housing variant 4 is so small sized like an M12 connector. This makes the variant 4 is particularly interesting for device manufacturers. For this use so far preferably M12 connector, which is also available for Industrial Ethernet with d-coding and transmission standard to 100 M / bit (Fast Ethernet). The Housing Variant 4 Telegärtner is future proof as it – is extremely compact – offers a transfer rate up to 10 G / bits. Transmission rates up to 10 G / bit for example, require manufacturers of cameras that use these for optical monitoring and quality control of manufacturing processes. Since the required data transfer performance will continue to rise further in the future, to the user opens up completely new possibilities with a transfer rate of 10 M / bit to 10 G / bits. In addition, the variant 4 is SteadyTec technology directly in the field attachable.
For all industrial Ethernet protocols
Despite rated compact housing, the IE-Line package variant 4 takes on different applications: Whether RJ45 (without tools or crimping) or fiber-optic inserts (standard LC duplex and SC connectors). The advantage is the media independence: with copper or fiber cable users to reach distances of a few meters to several kilometers. The RJ45 connector in IP67 help all variants of the on-market Industrial Ethernet protocols. The fiber optic connectors also have a fast connection and can be used for Plastic Optical Fiber (POF), Plastic cladded fiber (PCF) and Glass Optical Fiber (GOF) in 50 microns and 62.5 microns are used. When RJ45 connector with IP67 protection, the size of the Profibus User Organization (PNO) is standardized. The standard ISO IEC 24702 describes the general wiring in the industry and overwrites the RJ45 connector (IP67) before binding.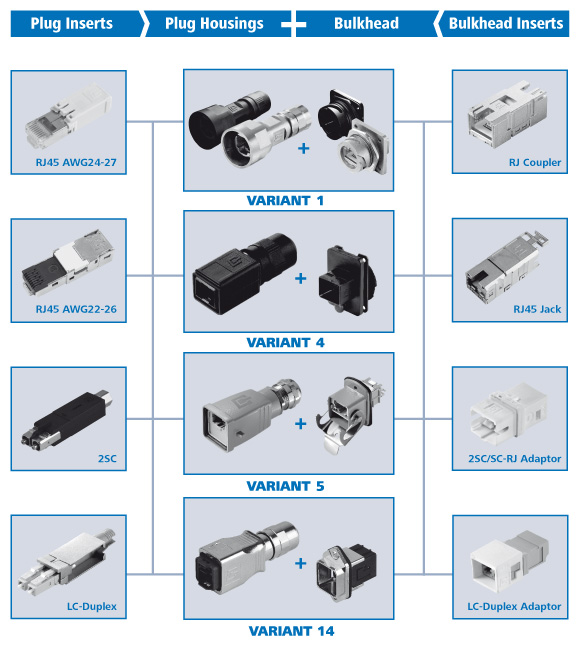 Only two housing parts
The case of variant 4 (ISO IEC 61076-3-106) are composed of only two parts, namely a flange and a connector housing. When mated variant 4 is designed in protection class IP67. The robust housing made of polyamide with internal protection class V-0. It has a flange in the standard grid, a marking label recording and a lanyard made of rubber with the IP67 protective cap. The following housings are available: plug-in housing, connector housing with kink protection, connector housing with protective cap, flange and flange housing with protective cap. Available Color coding are available in white, gray, orange, blue, yellow and green. Also, the module for connection of the cable consists of only two parts.
A single connection Philosophy
Telegärtner put in his IE-Line connectors with SteadyTec technology value to a same port philosophy: Easy to use, easy to learn, low error rate. Thus, the terminal 5 (Profinet) or Variant 1 takes place with all housing types in the same way, whether the case of variant 4 (Ethernet / TCP / IP), version (Ethernet IP).

Contact Technology:
The RJ45 connector (IE-Line SteadyTec) is insensitive to vibration, shock and mechanical stress. His contact springs are characterized by lower mass and higher spring force. The shield was realized with four instead of two contact points, thus ensuring high contact reliability – even under extreme conditions.
Housing technology:
Robust material not alone sufficient for a plug connection. IE-Line Connector with SteadyTec technology have a high water resistance and lock the connector system safe and reliable. The cable entry can be protected cables up to 12 mm in diameter and allows the use of up to 8-core cables. The housing is completely closed. The SteadyTec push-pull mechanism protects from dirt and provides for easy handling – even after years of use.
Materials Technology:
IE-Line offers the right housing material for any application. SteadyTec plastics and metals are resistant to dirt, in addition to alkalis, acids, fats and oils resistant and at -40 ° C to +70 ° C can be used reliably.
Sealing technology:
IE-Line connectors are characterized by 100 percent waterproof housing and protecting copper and fiber-optic inserts optimal. The material used has minimal wear and provides maximum dimensional stability.

Handling:
The IE-Line Connectors are to be installed all in the same way to handle and with a few simple steps: Installation is simple because it is tool and field assembly. IE-Line offers an integrated Cat. 6 core management and optimized IDC terminals (Insulation Displacement Connection) (Insert cable – compress – done). The pre-assembled housing and inserts are contacted quickly. Few parts means less time and less error possibilities. The lettering is done with an industry standard label, so can be relevant information applied directly to the connector housing and read at a glance. For cable seal and strain relief sets IE-Line on a collet cage. The connector housing is pushed over the cable and tighten the screw. Immediately everything is tight – even with thin cables. In addition, IE-Line offers robust boots in order to prevent excessive bending of the cable. In practice, the color coding rings are very helpful. The structuring of individual network segments with these labels a breeze. In the industrial environment field assembly often means inaccessible, dirty places. A complicated handling or many parts make a fast, efficient on-site work almost impossible. In IE-Line users build the preassembled units and components together easily and without tools. The assembly of the IE-line flanges shall be carried out easily. The breakthroughs needed can all create with standard Ausknack tools. The user can select between the central screw for standard wall cutouts, or the version with 4 screws for outdoor installation.