Small pack – big saving
(Steinenbronn) The slimline AMJ-S Cat.6A module launched by Telegärtner in 2011 has established a name for itself on the market as an all-purpose module. New innovative products compatible with the module are opening the door to a wide and diverse range of applications which are not only saving users space and money but are also raising the profile of flexible structured cabling to professional heights in new fields of application. For example, a surface-mounted distributor is arousing interest in the technology in medical practices, residential homes and small offices. And data centers stand to profit too from its high packing density and low space requirements, with the new 19″ 48-port panel saving not only installation time but also enclosure space which is expensive to cool.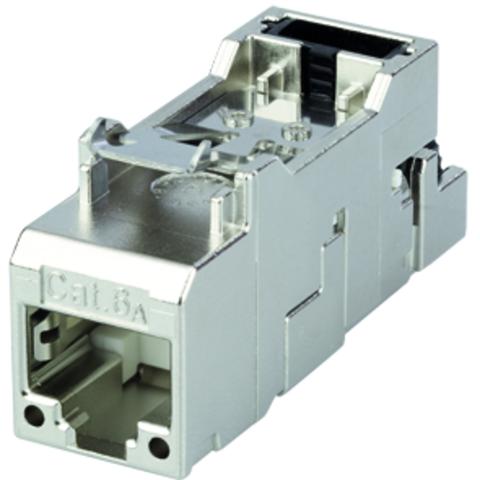 "The higher packing density you can get with the slim line AMJ-S module translates to hard cash savings", said Marcel Leonhard. Scores of applications affirm the confident assurance of the DataVoice Manager at Telegärtner. A new 19″ 48-port panel, for example, with two rows of 24 slots taking up the space of just one rack unit, has connection facilities for 48 single cables or alternatively a multiple or bundled cable system. The modules with the panel are a popular choice in data centers where space is at a premium. The panel is made of steel to withstand the greater weight of the heavy cables. The convenient snap-fit technology makes speedy work of installation on site. The cabling can be pre-assembled outside and simply clicked into place in next to no time in the data center, reducing the labor time of the installer to a minimum.
Option of more users or more functions
More users or more functions can be accommodated with a new triple outlet for offices for installation in the trunking and in surface-mounted design. It still looks the same and is compatible with standard products. In conjunction with the Telegärtner TOC range of outdoor connectors the 2011 AMJ-S Cat.6A module can also be used in protection class IP68. It can be fitted as a control cabinet lead-through or IP68 bulkhead outlet, for example, or a surface-mounted IP68 outlet.
Telegärtner is the only manufacturer to supply a 19″ surface-mounted patch panel with 24 slots for the module. The supplier has developed a high-quality, custom-built metal housing. Therefore there is no need for a detached enclosure for the flexible structured cabling and no need for separation from active components. This application is an exciting and welcome prospect for medical practices, residential homes and relatively small office complexes, for example, as well as for the home. Telegärtner is quick to respond with the latest technology to satisfy the constantly changing demands of the market and with the development of a continual stream of new applications for the ever increasing number of connection options.